E X T R A O R D I N A R Y G E R M A N S H O R T H A I R E D P O I N T E R S
Established in 1970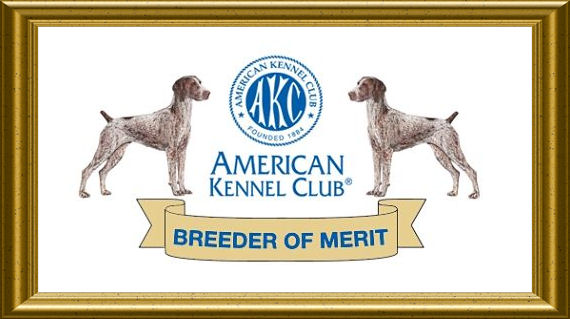 AKC Breeder of Merit



Home

Bleugras
History
The
Breed
Our
Services
Our
Dogs
Our
Family
New
Titles
News
Archives


Family
Life
In The
Field

Puppies



Testimonials

Stud
Dogs
Past
Dogs
Contact
Us



Welcome to the Bleugras German Shorthaired Pointer website!

"Every boy deserves two things...
a dog....
and a mother to let him have one!"
Quote by Robert Benchley
"I think dogs are the most amazing creatures... For me they are the role model for being alive."
Quote by Gilda Radner
"Whoever said you can't buy happiness
forgot little puppies."
Quote by Gene Hill

History is full of more
examples of the faithfulness
of dogs... than of friends!
---
Announcements & Bleugras News 2016 - 2017
---
First show of the season.....


BEST OF BREED

OVER SPECIALS for a
Grand Champion MAJOR!!!!!!!


Winnegamie Dog Club - j: Mr. Joe Lobb - January 14, 2017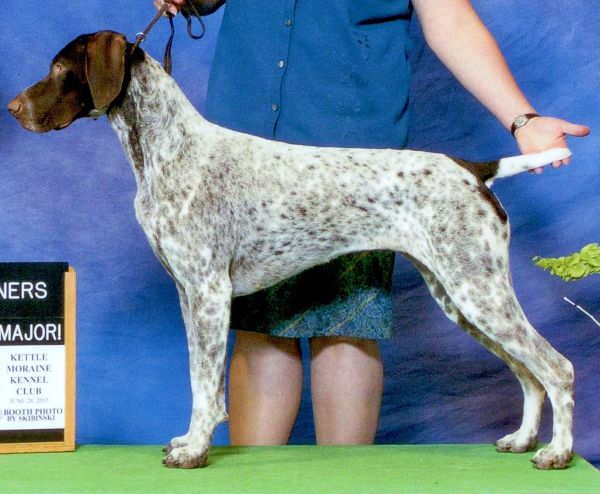 CH Cedar Run Bleugras Just A Breath Away CGC

(GCh Cedar Run Fire In The Mountain & Ch Bleugras Hottie With A Body)
H: Christine Kinnunen Co-O: Christine Kinnunen & Eve Parsons
B: Christopher Rost & Treasa & Michelle (Cedar Run GSP)
---

---


Awesome opportunity to own one of these Fabulous puppies!!
6 males - 4 females - Wh: December 19, 2016


Sire



Group & Specialty Winner


Ch Bleugras Across The Brazos


"Da Braz"

Dam

Ch Bleugras Moonstruck


"Lovey"

Bringing together the gorgeous ACE daughter and the great ROCKET son!! Take a look at this awesome pedigree!!

If interested in one of these very special puppies, please contact Denine at 1-252-204-417

9

or Jerry at 1-224-558-5827






---

---
"
Matinas having fun with the Bombshell Lina!"
in Brasil!!!!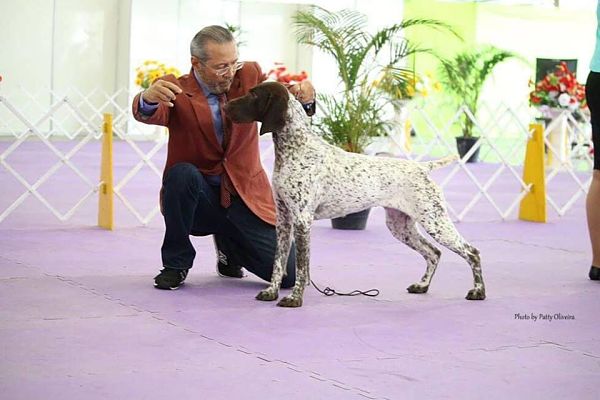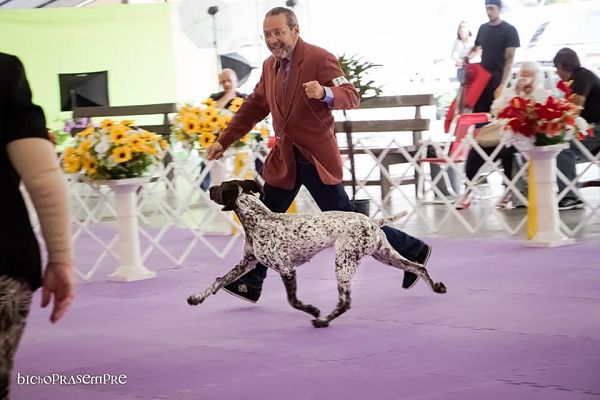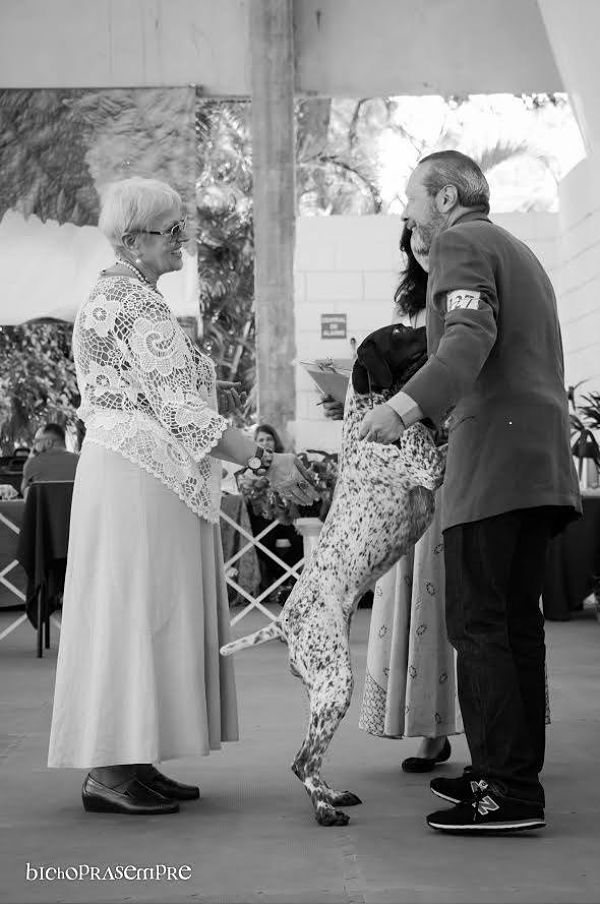 Am CH Bleugras Barretos To Linfinity & Beyond!
(AR/BR GrCh Barretos Linsanity & Ch Bleugras Forver-N-Ever Amen!)
---

---
Remember When...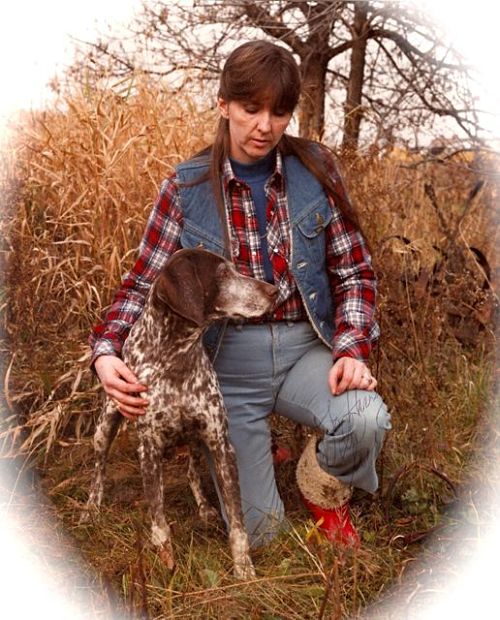 circa 1982

at 9 years of age with owner Eve
Ch Bleugras Ramblin' River Tilly

(Ch Gretchenhof Columbia River & Ch Cede Mein Gadabout Jill)
Tilly is dam of Ch Bleugras Bandy v Shadydell who is sire to Ch Ricane Zehn v Shadydell who is dam to Ch Ricane TX Guns N Bleugras Roses who produced 17 Champions for Bleugras!
Click here
to check out past Remember When photos
---
United States News

International News


Congratulations Kim and "

Millie

" on qualifying
for

Westminster Kennel Club 2017

Masters Obedience Championship

!!!



OTCH Bleugras Millie Over The Rainbow UDX2, OM4, GN


(GCh Bleugras Don't Think Twice &
Ch Bleugras Sweeter Than Wine)





---




More news in our news archive. TO INFINITY AND BEYOND!
Just 11 points shy of achieving the #1 GSP title, Buzz Lightyear was mysteriously killed. The full story and much more in a Tribute to Buzz Lightyear on this page.







The Bombshell "

LINA

" goes


BEST

IN

SHOW


handled by Matinas Suzuki Jr!!
November 19, 2016
Colombian judge: Mr. Christian Enrique Gomez Ortiz



Am Ch Bleugras Barretos To Linfinity & Beyond!


(AR/BR GrCh Barretos Linsanity & Ch Bleugras Forever-N-Ever Amen!)


B-O:

Matinas Suzuki Jr & Eve Parsons


Parabens!!!


---

LINA's beautiful sister, "

Lolo

" goes

Best of Breed

at the biggest show in Denmark

!!!




Dansk Kennel Klub - November 5, 2016



DKCH, SWED-CH, HJCH
Bleugras Barretos Brasil Beyond VJP
(AR/BR GrCh Barretos Linsanity & Ch Bleugras
Forever-N-Ever Amen!)
O: Ágnes Nácsa & Máté David
Co- B: Eve Parsons , Matinas Suzuki, Jr


---







Updated

01-18-2017

Changes may affect multiple pages.







Home

| Bleugras History

| The Breed |

Our Services

| Our Dogs | Our Family | New Titles | News Archives

Family Life | In The Field | Puppies | Testimonials | Stud Dogs | Past Dogs | Links | Contact Us


Copyright © 2002 - 2016 Bleugras GSP's/ Eve Parsons
All Rights Reserved
Please do not take graphics without permission
Our graphics are not public domain